Team IZOD Supermoto Season 2013
THANK YOU

IZOD

FOR AMAZING 3 YEARS OF RACING !!


SEASON 2013 ENDED ! A BIG THANKS TO IZOD AGAIN AND ALL MY SUPPORTERS for making this happen!!

An exciting racing season 2013 ended and I'm looking back on an eventful year. Some really good results, an inproved overall speed, lots of riding time - Italy, France - but unfortunately also several setbacks. Overall a great 6th championship place and knowing that I could keep up with the fastest riders in my class.


The crash and injury after the second race in Zelhem was the first setback. I was able to limit the points damage on race day and the next race, so I was still doing well in the championship, although I missed quite some important practice and riding time. Then at the 4th race in Lelystad, I had a good qualifying, starting from 4th position and I stalled the bike at the start! Due to the tight track design that day, I could not make up enough positions in race one and the whole race was terrible. At the next race, someone ran into my right knee and I had to pull over to check. It was quite painful, but I managed to rejoin the race and finish 18th. Second race was equally problematic, ending 14th with the injury. From there, I had decent results, mostly 6th except for Holten and the last race in Lelystad (where I got a track penalty, which pushed me down in the results...). It was an exciting year, with a little disappointing overall results considering what would have been possible. Would have, could have, should have - doesn't count though ;-) Best race result was a 4th and I had a 3rd and 2nd qualifying result, which is good and I'm quite happy with !

One of the events that happened towards end of the year was the move from Amsterdam to Berlin. This means that I cannot race the Dutch championship in 2014, which is a shame really. I really like the series and people around there. But we'll see, maybe I can make a few races and in the meantime, I'm already looking out for places to ride here in Berlin ;-) UPDATE: Unfortunately, my bikes got stolen over winter, so I quit riding for now. For more info on the stolen bikes, click HERE.
Video Race 1 Lelystad, 8-September:

Video Race 2 Lelystad, 8-September:
Lelystad Race News: Unjustified time penalty and crash prevent better result - still finished in Top 10!

Race day started wet and thus qualifying was on rain tires in wet conditions. I had a decent qualifying, finishing 7th, but did not make the most out of my potential there. Then I was off to a great start and was in 5th position, chasing 4th when I fell and lost two positions that I couldn't regain unfortunately. But the worst was that race control gave me a two minute time penalty for passing under yellow flag, which was totally unjustified. First of all, I passed a rider that was one lap behind, so not for race position, and secondly, I passed him before the yellow flag zone, which my onboard camera proves quite well I think:



There was also an article on Supermotonieuws.com: Click here for the link (in Dutch).

This put me back on 13th, so I had to start from 13th position in race two. In the pack, I had some bad luck which put me back several times and after five laps, I was even back in 15th place. In the end I couldn't gain as much as I hoped and finished in 11th position, for 10th overall. There was quite some race action, check out the videos.


Enter Race news: Great track and 6th overall for the day; 2nd in qualifying and gained one position in championship, now 5th

A very satisfying race. It started rainy with a wet qualifying, although the track was drying up. I posted the 2nd best time in the "A" group, with my last lap! Unfortunately, the track got really dry and the second group had much better conditions, so I was moved to 4th starting position; still first row! Two very eventful and tiring races
, with a 6th place in race one and 8th place in race two, resulting in a 6th place for the day! More to come, but see already the onboard videos of the race:


Video Race 1 Enter:


Video Race 2 Enter:


Holten News: a bit unfortunate race, 10th overall and secured 6th position in championship
A day full of unfortunate events. The sandy offroad got rought over the day and I couldn't manage it very well. Already in qualifying I missed 5th starting position by only a fraction of a second (ending up 9th), but the first race started off well and I could fight for positions six, seven and eight. With strength fading, I made first some minor mistakes, but then somehow fell at the beginning of the offroad and lost many positions in the process. 13th in race one meant also a bad starting position for the second race. There again it started ok, but again I did not have the strength to hold on and in the end lost additionally two positions simply due to this.
See pictures of the race here
There was also some regional TV coverage, check this link



Video Race 1 Holten:



Video Race 2 Holten:
Lelystad No. 4: 6th overall in turbulente and fun races, with great race action!
A fun race with plenty of race action with an overall good result. There was room for more, but it could have been a lot worse as well :-) I had a very hard time in qualifying and ended up 7th in a difficult position on the starting grid, but managed to have decent starts and then managed a 6th overall. The second race was especially fun, I was charging very hard towards the guy in front of me and I was clearly faster, but he fought for it and in the end managed to defend his position by half a bike length on the finish line. The fight was the highlight of the race though and the announcer got all excited ;-)

Click here for the full race report and here for pictures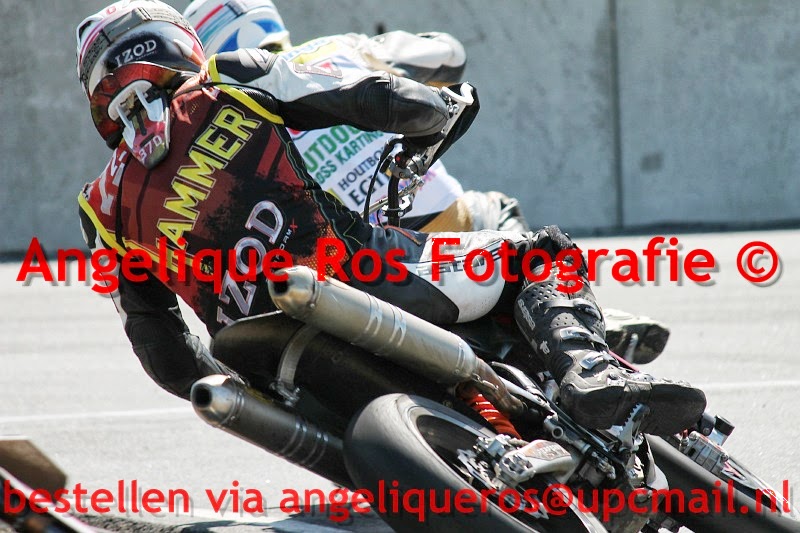 Training week with Marcel van Drunen and Thierry van den Bosch in France
As a very nice season break, we went to France for a race training week with multi-times Dutch champion and former international MX Pro rider Marcel van Drunen and four times World Supermoto Champion Thierry van den Bosch. Amazing weather, a great track and just fun three days, thanks to all involved!! Here a nice track video, with some below the bike camera view:




Watch: first IZOD onboard race videos, races one and two in Lelystad on 14-July, where I finished 6th overall.
See also pictures of the race, click here
Video Race 1:
Video Race 2:
Lelystad No. 3: Finally a smooth race again with an overall 6th position finish!

Qualifying was exciting this time, after 8min in qualifying, I was 5th with 1:22:0, just 5/100 of a second behind 4th, so I went out again to hit another one and I pushed the time down to 1:21:084. But the others improved and 4th position was in the end again 5/100 of a second ahead. But 5th position gave me a great starting position behind No.1 on the outside for the first corner. Great starts in both motos, both times riding in 3rd for a while. But then I could not keep up the speed and dropped back to 5th in race one and 7th in race two. Still great 6th position overall result and 6th position in the championship!
Stay tuned for the first GoPro race recording to see the race action from my perspective.



And another tough race day in Joure: Finishing only 15th overall after another 1st lap incident in race one. Still 6th in championship!

When does the bad luck streak end? This time a tight qualifying, ending in 9th position on the grid. The start went reasonably well, then a guy fell right in front of me in lap one at the entry of the offroad. I could steer around him, actually gaining position, then someone rode over my right foot, neding the ankle and knee terribly. I made a weird sound in the knee and hurt a lot! I was convinced something broke there, so I slowed down and let everyone by. It hurt quite a lot but did not feel like something tore, so I started picking up speed again and and applying pressure on the right foot. It hurt but seemed to work, so I decided to continue the race - dead last of course, like 30 seconds behind the field... I managed to still finish 18th. The second race was one day later on Sunday and after checking my condition in the morning, I decided to give it a try and race. It was still painful but worked reasonably well. I managed to finish 14th coming from 18th starting position and I am quite ok with the result considering the pain and circumstances. But overall of course not what I was looking for before the weekend... let's also leave this race behind now and look forward to the next one.



Lelystad No.2: Great qualifying as 4th, just 0.2 sec behind 1st! Then terrible race... 15th overall after stalling the bike at the start of in race 1 !! Just happy no one hit me, so good luck after bad luck! Now looking forward...

A terrible day ! I had a great speed in qualifying, very close up front, finishing 4th just 0.2 seconds behind! Like nothing! I knew that you need a good start here because overtaking was close to impossible. And what happened? I killed the engine standing in first row! I could just hope that no one hits me and luckily no one did - that was scary !! But of course, I was 35th and last and started the impossible. 26th after lap one and then fighting and fighting. More than 15th was not possible and I had to start from that position in race 2. There again a terrible start ! This time I really got stuck and did not manage to pass many. A few proved that it could be done, One guy went from around my position up to 8th. But me, I didn't manage the passing well and got stuck, ending 17th in second moto. A race to forget ! Not having good starts this year so far... now I have to leave this behind and look forward, every race is a new one.
See the start in below video, I'm the guy in front row. The guy in second row seemed to serve as a shelter (yellow bike):
(Click here to jump directly to the second start)




Great race day in Boekel, 7th overall finish. Bad starts prevented a better result and no risks taken this time. Still gained one position in championship, now 5th up from 6th!

It was a great race all in all, again with great family support! Thanks for that bro'! Qualifying went well with a 5th starting position. Unfortunately, this was a middle position. I had a great start into race 1, but the guys in front of me didn't get off so well and I was squeezed again. Almost same situation as in Zelhem, but t his time I avoided to much contact; still had to break and some riders slipped through. I came around the first corner around 9th position or so, then managing going up to 7th by end of lap 1, then lost a position in the offroad section and gained another one. Then stuck behind 6th and I tried a lot but couldn't pass without taking any risks. Second moto I started on the outside from 7th position and hoped I could go around on the outside. But again, one more slipped through on the inside and after gaining this position back it was exactly the same situation as in race 1; this time I tried more and I pushed harder, but still didn't find a way by :-(

So, overall 7th for the day and on the bright side, I moved up one position in the championship to 5th !!

Click here for onboard video of race, see especially the first corner!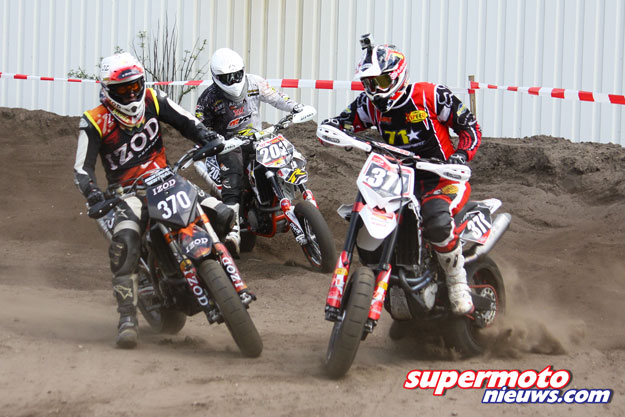 Injury Update prior to race

It is getting better every day, so the healing is under way. Therefore I will be able to attend this weekend's race in Boekel and give it my best possible!



Bummer in Zelhem! Crash at start to race one, still finishing 8th overall for the day

This was not a good weekend. I got involved in a start crash and went down hard, hurting my shoulder. I could continue the race from pretty much last and still managed to finish 13th! After the race, I had a lot pf pain in the shoulder, but decided to try it. So starting from position 13 - this year you have to start in the second race based on your result from the first race - I fought my way through the field to finish 6th! Quite amazing considering the painful shoulder. Examinations during the week show some damage (a little fracture), basically a strained and bruised shoulder. Question will be if I can race the next race ini Boekel, this needs to be seen.

One of my competitors had a first row seat in it, so check this out (if video doesn't show,

click here):



Click here for pictures

Race report to follow...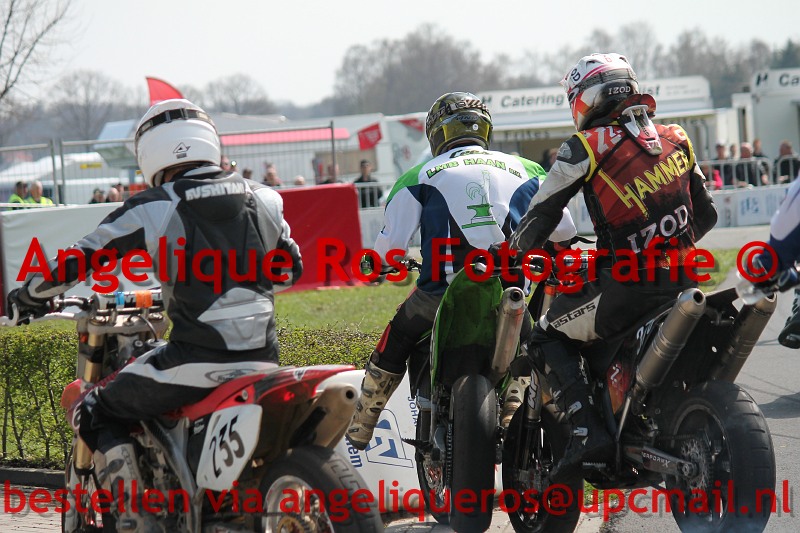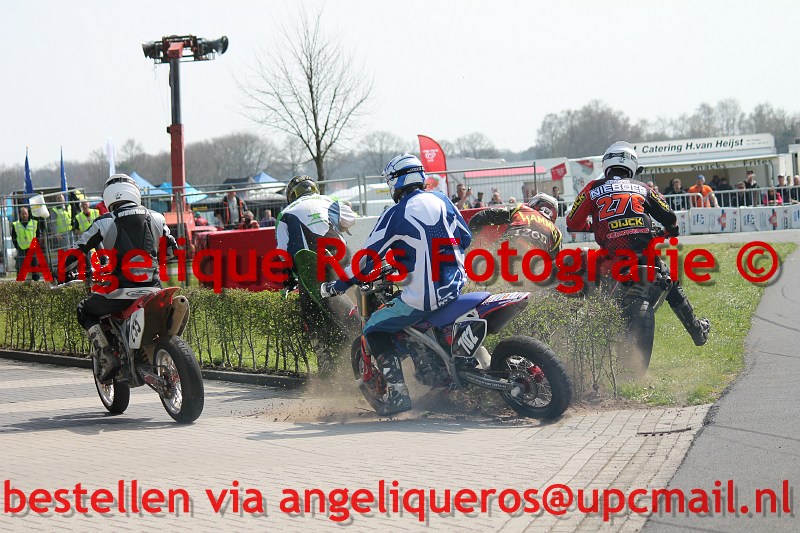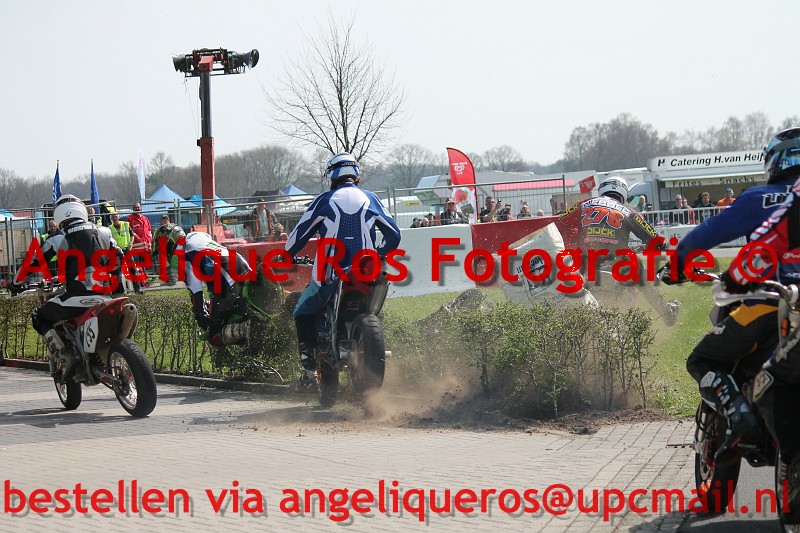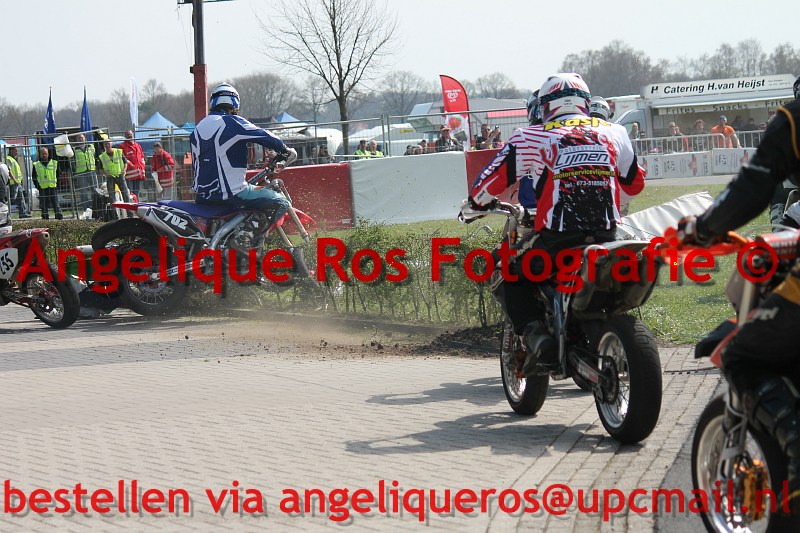 Great start into the season - 5th and 4th place at first race in Lelystad, 5th in championship
Click here for pictures

What a great start! I won my qualifying group in still wet conditions, but the track was drying up. The second qualifying group had drier conditions and two faster times were posted. So 3rd on starting grid. Rest of the day was dry and nice weather. First race, I didn't have a good start and after some ellbow banging found myself in 6th position, all stuck behind a relatively slow rider up front. I gained one position and reached the slow rider, the first three starting to get away. So I tried a move in the offroad, but couldn't make it stick - missed a corner, got on the dirty part of the track and almost crashed! I saved it somehow, but lost my 5th position in the process... after that, it took me again a few laps to finally get by the guy (at the same spot, just this time I managed to brake in time...), so finished 5th overall. Second race same story, not a great start, again in 6th position. Gained one position in race and then another one due to a crash in front of me, so 4th in race two. Good news is that I'm in reach of the front runners, so interesting races ahead. This season, we ride 20min plus one lap, so five minutes more. This is really a tough one... but the same for everyone of course. It requires some strength management. Detailed race report to follow.

One trouble area was again bike noise... my bike was also one of the bikes that were too loud and I need to reduce the noise level already for next week. Very tricky and I don't really have a solution yet... the measurement method cannot be simulated really so it is trial and error - not good. Next race, there would be a time penalty and the race after in Boekel, they will disqualify too loud bikes. Gives me some headache... :-(

Next week already the next race in Zelhem. Stay tuned!



Season preparation in Italy
Click here for pictures



In March, I spent one week in North Italy, preparing for the season. Very mixed weather... first day heavy snowfall, no riding possible. Second day, sun but still wet track. Third day pouring rain (great for practice) and then the remaining three days again great sunshone weather and dry riding conditions! All in all a great week with lots of learning. Pictures and more details to follow.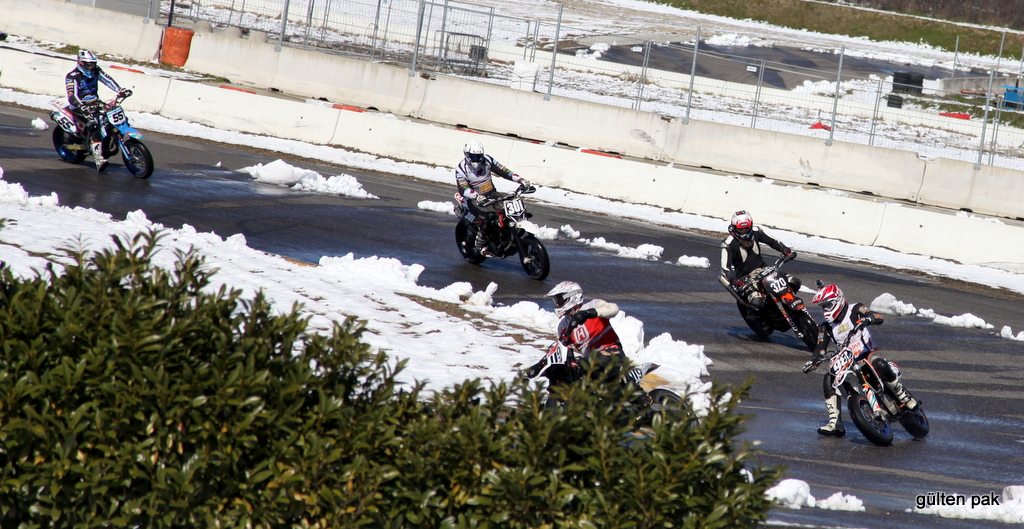 Racing Calendar 2013
14 April Lelystad 1
21 April Zelhem
5 May Boekel
26 May Lelystad 2
8-9 June Joure
7 July Balkbrug (cancelled)
14 July Lelystad 3
4 August Lelystad 4
11 August Holten
25 August Enter
8 September Lelystad 5
29 September Valkenswaard

Happy New Year to everyone !! The new racing calendar for 2013 is released

A Happy New Year to everyone, to a new racing season!

CLICK HERE for picture highlihts of 2012!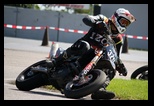 Please see coverage of 2011 and 2012 seasons respectively, with all pictures, links and information!
CLICK for 2011 season
CLICK for 2012 season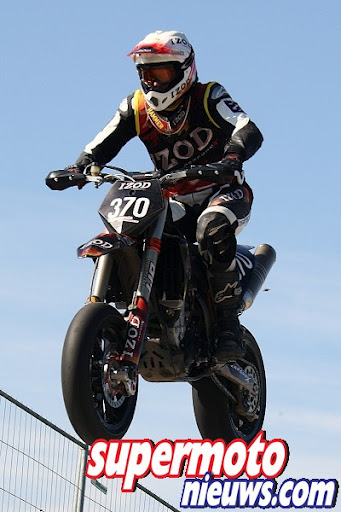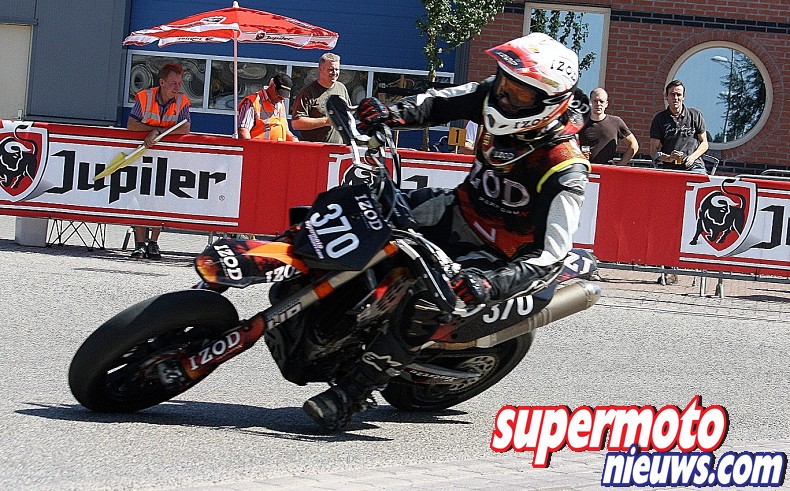 Podium in Lelystad!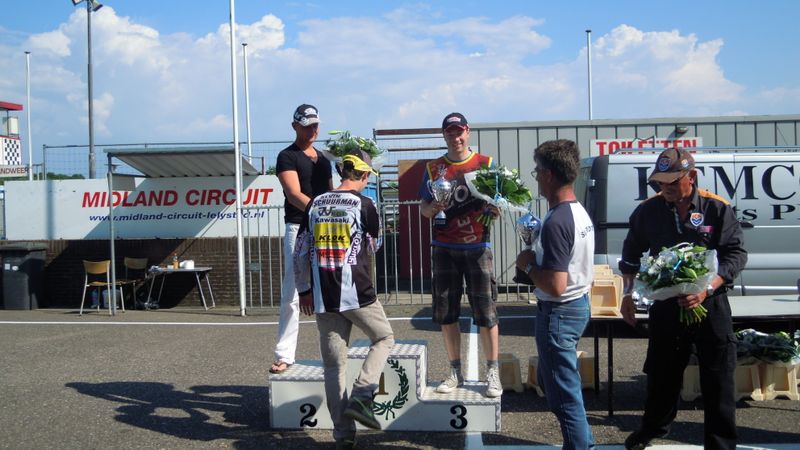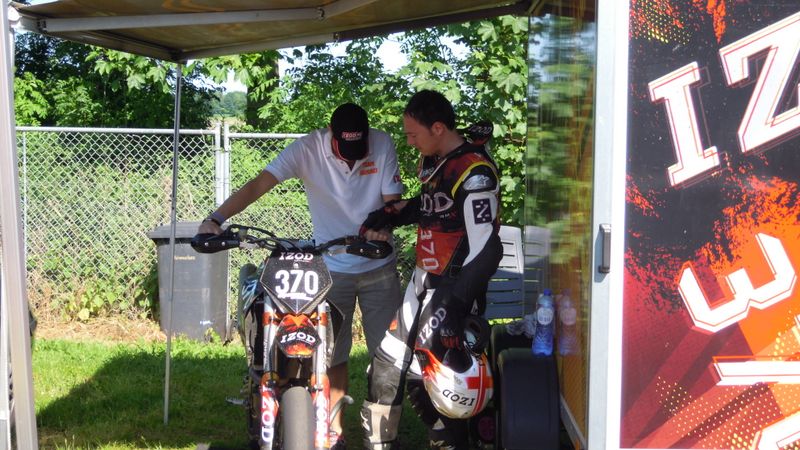 Family Team Support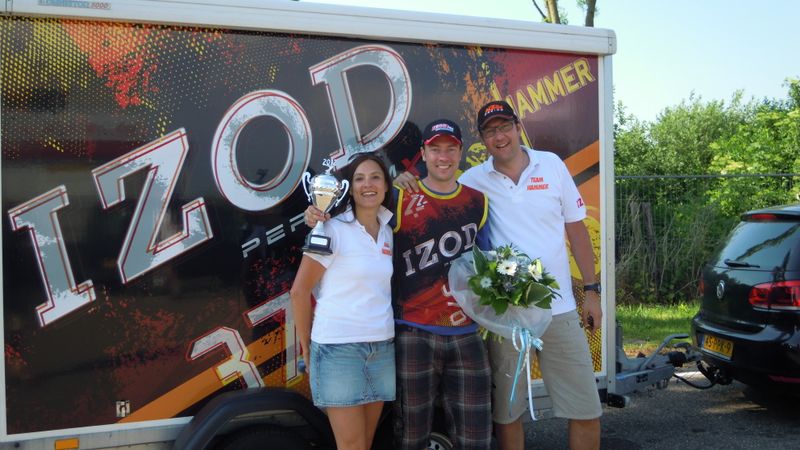 Picture of new Outfit: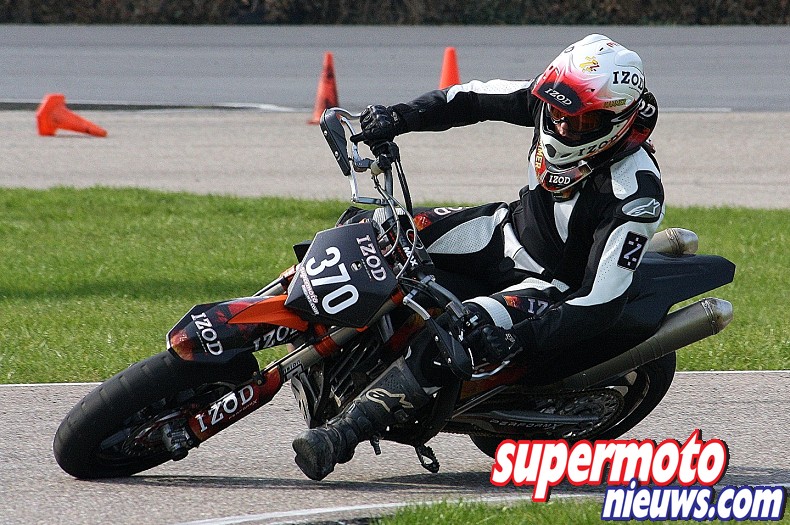 Bad news - my two bikes and a lot of equipment got stolen out of my garage in Amsterdam!! Please help finding it, there is a reward of up to 5,000 Euro !
See my special page with all information, list of stolen items and pictures: GO HERE!!