RACE REPORTS

1st half of season:

Half time report see below the picture

Race 1: Lelystad, 10 April
Race 2: Zelhem, 8 May

Race 3: Boekel, 15 May
Race 4: Lelystad, 29 May (no show for me, but see Indy500 pictures)
Race 5: Valkenswaard, 12 June

Race 6:

Hellendoorn

, 19 June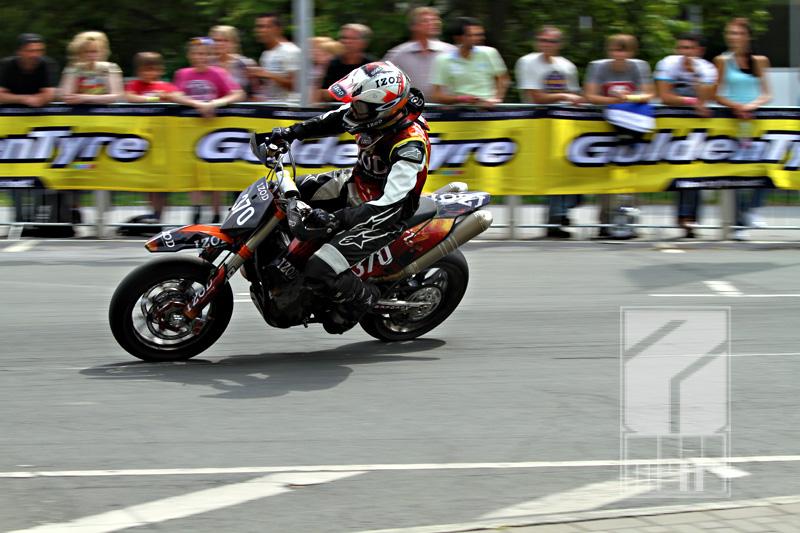 SEASON HALF TIME REPORT





Best Finish:

5th Boekel

Best Overall standing:

7th out of 111 riders after 3 races
Worst Finishes:

27th Valkenswaard; no result in Hellendoorn
Current Overall standing:

28th out of 118 riders after 6 races; 4 DNFs


Half of the races are over and time for an interim summary report. The season started actually quite well, with two 10th place finishes and great momentum leading into the third race. Boekel was the highlight so far with a great 5th place finish; a flawless race! I missed the following race in Lelystad, a track that suits me, due to Indy and traveling. Heading to the 5th race of the season, there was only one practice since the last race, but I still felt relatively fine. In Valkenswaard, however, the qualifying went really down the drain and the lack of practice of the previous weeks took its toll - serious arm pump and then a crash on one of the last fast laps, starting position 27. Another crash in the first moto, well in the Top 20 already, bent the exhaust pipe and hurt the rips, so overall a disappointing 27th place. The 6th race was a real rain event and during qualifying it was pouring down. Again, the qualifying did not go very well and afterwards the bike and equipment were soaked; I simply were not prepared for these conditions. Adding the aching rips, I decided to pull out of the race and use some time to recover and fix the bike.

The plan now to fully heal and then start again a regular practice program with Supermoto and Motocross in order to get back in shape for the start of the back half of the season. The results in the beginning of the season show that the speed is good, so it is all about getting everything together again. Stay tuned!!