Team IZOD Supermoto Season 2012
Season Re-Cap - great 2nd place race finish and reaching podium for the day

Again this year, a

BIG THANKS to IZOD

and the team in New York for supporting this season a
nd also congratulations to the IZDO team to another awesome US IndyCar Series season with a thrilling finish. A
lso thanks to Hannamax for providing technical support!

Highlight of the season was certainly my

2nd place finish in race nine

in Lelystad in May this year - just awesome! And of course the overall

podium finish

for the day! This was a dream that came true and a great motivation to again train hard over the winter, prepare the bike perfectly and then come back even stronger next year. I do feel there is still some untapped potential and it would be nice to get it out.

As for the entire season, the first half went really well with strong races and really great results. Second half of the season, was all but trouble free. It really started with the crash and injury in Lelystad. I missed this last race before the break and then the entire summer was rainy with almost no riding opportunity. After that, I never reached the form of the first half of the season, but I'm still quite happy with the progress made, for example in the Lelystad offroad section, which should benefit me next year. To be continued.
Next appearance is again this year at a demonstration race in Gorinchem beginning of December.

Season final in Lelystad - great 7th position in season's last race
Great finish of an awesome season, again big thanks to IZOD !! Bike and outfit was even better than last year, so very proud to race for you guys ! Quick update on the season final in Lelystad. With some jet lag in the body (literally arrived Saturday morning on race practice day from NY) and some bike problems (clutch failure - did only one (!) lap on Saturday), I was really happy to finish with a strong race performance and as

7th of the day.

Race report and season re-cap to follow soon. Overall, I wished I could have prepared a little better for the final races in the season, but considering everything, it was a great finish. A clear improvement to previous season, with one podium finish and cool racing against the championship standing leaders. Already looking forward tro 2013!!

Click here for race report and click here for pictures!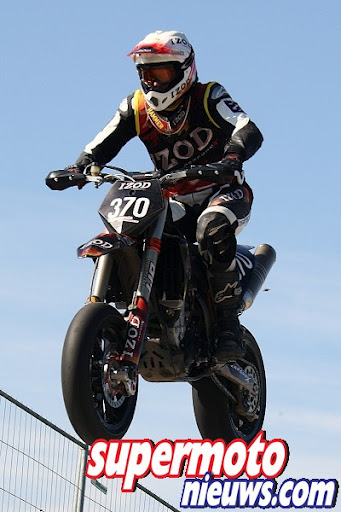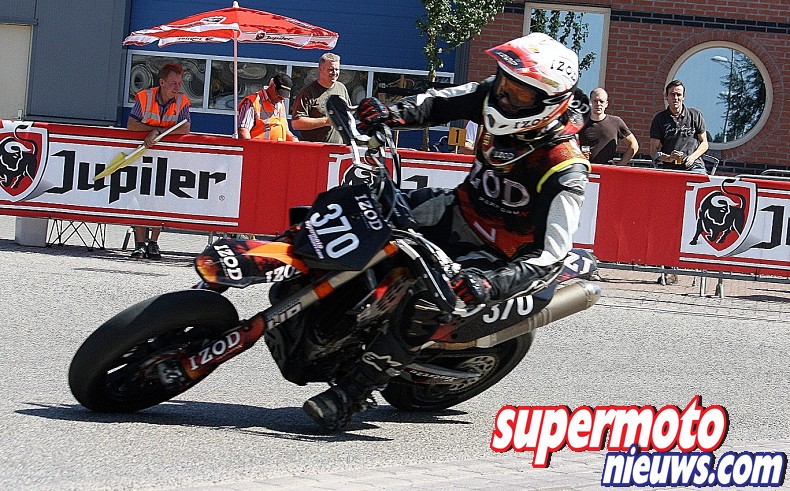 Highlight pictures first half of season

Podium in Lelystad!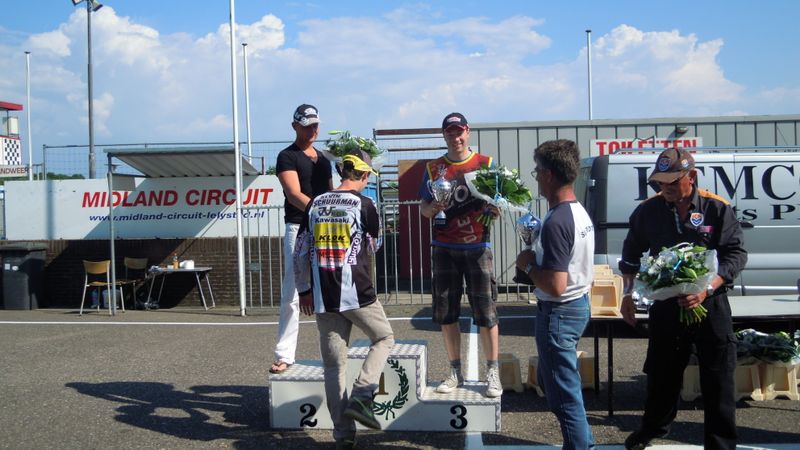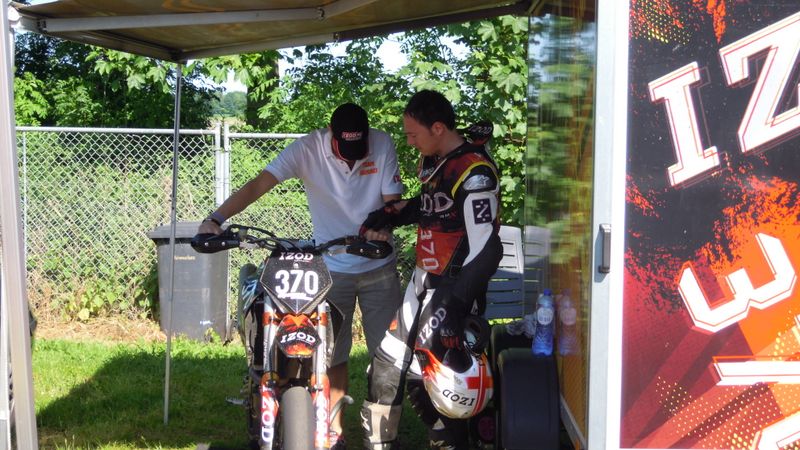 Family Team Support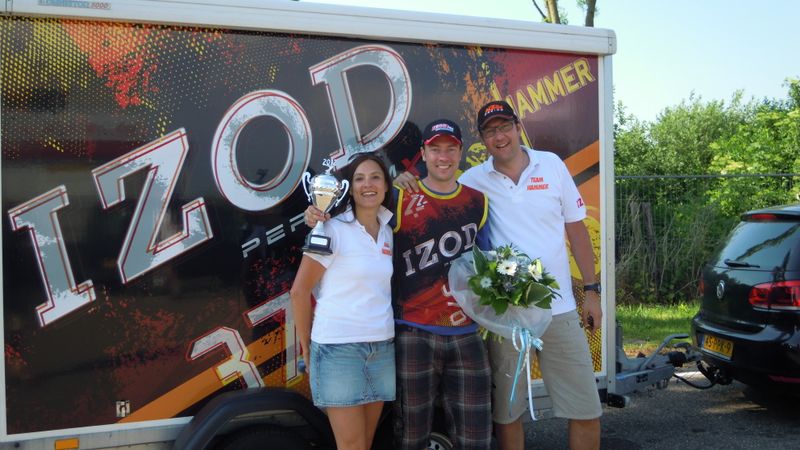 Lelystad & Holten & Joure
Three races in three weeks; tight schedule. All in all it went okay, I did not come out of the break very strong. Six weeks of almost non-stop rain made practicing impossible and also otherwise I didn;t have much time to work out as much as I should have. See the detailed race reports for each race (Lelystad & Holten). Lelystad was my worst first race since a loooong time, I was so pissed! Then made 7th in race two and 9th overall, sort of saved the weekend. Similar then in Holten, terrible start into the first race, however then lots of fun with a lot of action and then decent second race to finish 7th for the day. Joure was a two day event and I couldn;t finish race 1 on the first day and then didn;t make the second day. Last championship race is end of September in Lelystad, and then maybe the Superbiker in Mette - the world's biggest Supermoto event! Let's see if my calendar works out for that...

Bad luck in preparation for 7th race in Lelystad
A crash in Saturday's practice for the Sunday race in Lelystad forced me to sit out that race. After skipping the last race in Valkenswaard, this is quite a bummer for the championship standing. The only chance to practice the offroad section in Lelystad is the free practice on Saturday, so the idea was to do this in order to find the missing second to the top. Already in lap two, I lost the front on the still slippery aspalt part in the offroad section, not at high speed but quite sudden. My left foot got caught under the bike and twisted. Although it was painful, nothing seemed broken and after straightening the bike out, I continued practice. Second session went well and the foot worked. Just when I was about to go out for the third session, I realized that my exhaust broke off!! No way that I could ride with this. After a call to Hannamax, they got me a guy some 100km away who could fix it, so I went. And we did it. Back home, I prepared the bike late into the night and all was ready. Sunday morning, however, I could barely walk and could not put pressure on the left foot. It was too heavily bruised! So I decided to not race in Lelystad, which was quite a tough decision because I felt that I improved in all sections and hoped for another top result. Now is summer break and after healing the foot, I'll prepare thoroughly for the next race - and it is again in Lelystad. I'm all determined now to come back strongly!!

FIRST PODIUM FINISH!!
3rd overall at 5th race in Lelystad (out of 56 starters) and now on solid 5th position in the Championship!

What a great race! Finally we made the podium! I had trouble getting into the day, it was really hot, simply didn't feel fresh. The qualifying was tough and I was running in 7th position almost to the end. Couldn't believe it, at "my" track, the others suddenly appeared really strong. But then luckily I pulled a fast lap with my very last lap and managed the 3rd best time, so first row!
Race one was just amazing and a detailed report will follow of course. Really cool racing. I was close to falling down twice, but saved it miraculously both times. First time I went too fast into a tight corner and got stuck on the rear break. I lost grip on both wheels and almost spun 180, but managed to even defend my then 3rd positon. Second time I got off race line out of the off road, by just half a meter too far to the left, and lost the bike for a split second, but again somehow managed to stay on top. I rode in 3rd position and then one guy got bike trouble and I passed for 2nd place! Tom Ellenbroek put a lot of pressure on me in the second half of the race and I had to fight hard to defend it, but I made it and finished 2nd!!!
Second race also started well, running in 3rd position. But then I got tired and I was really worn out, so I had to let go my 3rd position. In lap nine, I got passed and I didn't feel good enough anymore to fight back, so 2nd overall position was gone and it was all about securing the first podium. So, all tactical racing now, no mistakes, no risks and no "over pacing". I let go another position and finished 6th in race two, which was enough to make 3rd for the day!!!

THANKS TO ALL of IZOD in NY

for the support, making this happen and this round around especially

thanks to my brother Stefan and his girlfriend Anita

; their pit support and information during the race was really important for the result!

See more

pictures

of the race in Lelystad, CLICK HERE!


Online press article:

Click here!
Also

video

of the race on YouTube: CLICK HERE!

4th race Hellendoorn: 7th overall on sandy race track (6th in first race and 9th in second race) of 56 starters
Decent result on my second least favorite track. I was still suffering some jet lag from traveling last week, so overall mentally exhausted. Weather was cold, but dry. The off road was the expected sandy soil, but somehow I didn't find it so bad. I had an ok qualifying and qualified as 9th. First race I had a good start, got stuck in between, but then benefited from others crashing in the off-road section. This is how it went in race one, I didn't do any mistakes but also no great lap times, but this secured me 6th position! Second race was similar, not so good start really, gained one position to 9th and that's where it staid. I could follow the guy in front of me, Joshua Das, the first three laps but made a mistake in the off-road section and then lost contact. He went on to finish sixth.
Now next race is again in Lelystad. Am very excited to come back there and have some hopes, so let's see and stay tuned!
Race report follows soon!

3rd race Boekel: 6th overall (8th in first race and 6th in second race) of 73 starters - drizzly conditions all day
The weekend started with constantly watching the weather. Rain, no rain; wet or dry...? On race day, there was some rain and then constant drizzling. Track was sort of dry, but slippery and then it got really cold in the morning. First race was really eventful, I avoided a high speed crash but lost many positions in the process and then also went down in the following corner. Now the fun part started, fighting my way back through the field. It was a great fun race, but I thought the result can't be any good. Turned out to be a positive surprise, I finished 8th! Second race was more "normal". After an okay start, I went from 8th position forward to 6th position, not far behind 5th and overall this meant 6th position for the day. And in the championship I moved up to 4th position. One more puzzling track ahead for me, then back to Lelystad.
Click here for race report!
Pictures Boekel, click here!


Onboard video Boekel,

watch the 1st moto unfold for me from 1:05 on: click here!

2nd race Zelhem: 7th overall (7th in first race and 6th in second race) of 70 starters - on a more Supercross-like track than Supermoto
The KNMV certainly proved again that they are not really on top of the sport. They set up an offroad track with two so-called "double jumps", meaning a gap between launch and landing. Normally, sizable jumps like this are designed as so-called "table tops", where you can approach the jump over time. A "Double" is especially challeneging for the non-pro riders. Not jumping meant to lose three to four seconds per lap, something that cannot be compensated on asphalt. As a consequence, several riders in these classes crashed and had to be taken to the hospital.
Anyhow, I decided to not even try it because I felt the risk is too high. In the end, I finished 7th in race one and 6th in race two as the best rider of the "non-jumpers". First race was horrible for me, I did too many mistakes! There was more possibe because others also did mistakes, so I missed an opportunity to score better. The second race was satisfactory, solid ride with a solid 6th position.
Click here for race report!

First race report: season opener in Lelystad - best rest result ever in Dutch Championship; 2nd in qualifying and 5th in overall race out of 68 starters!
Great start into the new season! Very cold but dry conditions in Lelystad. I won my qualifying group! With only one better time in the other group, this put me on

2nd position on the starting grid!

My best qualifying result ever, what a good start. Normally, I start well into the races, but not this time. First race I came as third out of the first corner and was held up by the guy in front of me. I just couldn't pass him. Then I did not pay attention in the off road part and got passed myself. It was a close fight to the finish line, but I couldn't improve my position anymore. So, 4th in race one. My start into the second race as even worse, I wheelied the bike, but luckily still managed third position. Same story as in race one. I could not translate my speed into fast lap times because I was not able to pass without risks. Then I got passed under yellow, but officials did not see it, so I lost this position and finished fifth. Again, very close to the top.



So bottom line of race one:

2nd in qualifying, best result ever! 4th in race one and 5th in race two out of 68 starters

, 5th in overall championship and speed wise very close upfront. I have to put my battle gear on for the races, get my usually good starts and then run for it.

For detailed racereport, click here!
Picture of new Outfit: