Season Preview and Preparation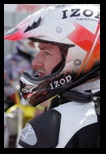 The idea of running a full racing calendar season in the Dutch "National" (Amateur) Championship in 2011 started growing in Fall 2010. After racing Supermoto in Germany in 2005 and 2006, I stopped racing Supermoto mainly due to time constraints, going along with moving to Munich and (finally) starting full time work. 2007 to 2010, I have been doing Motocross riding and Clubsport racing at the great track at the Munich airport, which was less time consuming in terms of bike and race preparation. In 2009, I have "dedusted" my old 2005 KTM 450 SMR to enter a Supermoto race nearby Munich and what can I say, it was great fun, I did fairly well and I felt that I should take it up again if the opportunity arises.
In November 2009, I have unfortunately dislocated my knee cap (soccer is dangerous...) and due to the aftermath of this injury and moving to Amsterdam for work reasons, almost the entire 2010 season went down the drain. In late 2010, I met people from Izod and learned about their racing efforts and enthusiasm in the US Indy Cart series. Their (new) enthusiasm for racing encouraged me to look into opportunities of entering a full racing calendar season in Holland, just for fun but nevertheless seriously. Izod is not known in Europe yet and they also have no experience with motorbike branding. They loved the idea getting engaged in this spectacular sport and learning more about branding motorbikes and we have started the project.
Lucky enough, I was able to secure Markus Volz' 2010 professional KTM race bike. Back in 2005 and 2006, I struggled with the fornt brake of my KTM, causing some scary moments, so I wanted to avoid any bike performance issues - well, I can say that the bike is certainly not the limiting factor anymore :-)
I took over the bike in March, not too long before the first race on 10 April in Lelystad. So time was tight. The fitness program over winter worked out fine and I was able to have three practice sessions before the first race. The first two, however, were on rain tires, so there was no experience on slick tires and thus getting used to the maximum performance of the bike. One day before the race, the track in Lelystad was open for free practice as well, so this was the first time riding the bike in race mode. I had so much fun that I actually overdid it a little and I was rather worn out getting to the race on Sunday. On the technical side, the KNMV (Dutch racing sanctioning body) enforced a 96db noise limit this year for Supermoto in Holland. Most bikes, including my, exceeded this on the Saturday practice (by far - I had 99db...), so I considered even skipping the first race. Nevertheless, I decided to take chances and still entered the race on Sunday.
Season starts, continue with first race report.